Modern PVC Membrane Doors Designs in India - Expert Tips
While designing he interiors of our houses, we ensure that all of them are both aesthetically appealing, economically friendly, and materially appropriate. We want every nook and corner to be perfect, whether or not it catches the eye of the visitors. However, we often overlook the most important aspects, thinking they do not hold as much importance as they really do. A great example of this is the door. Doors provide us with entry into and exit out of our homes. They are the first and the last thing that remain in the sight of our guests. So isn't it essential to pay attention to their designs?
Image credit: Google Search Images
To make your doors incredible looking and memorable, there's a wide range of unique designs for you to dive in. Membrane Door Design is one of them. Increasingly popular, this is a combination of a HDF (high density fibre) moulded door and a solid flush door. While the former refers to a type of door made of recyclable material such as wood and so is eco friendly; the latter is essentially a kind made of such sturdy material as laminated timber, and fronted with MDF sheets. Not just this, it is further overlaid with a chloride membrane (hence, the name). To no surprise, such a design makes the Membrane door extremely durable, crack resistant, modern, and stylish looking. So hurry up, and get these for all your rooms!
Why Membrane Doors?
These doors come with a number of advantages. They are resistant to cracks and heats, do not shrink, are solid and do not get disfigured easily. The reason for this is that the polymeric membranes used have the capacity to separate different types of liquids. Moreover, they are easy to clean, very convenient as far as maintenance is concerned, and most importantly, have an amazing finish and are elegant in their designs. The patterns and motifs engraved on these doors can either be simply carved or intricately designed that you can choose accordingly.
Another good thing about these doors is that they are not just limited to being used in houses, they can be fixed anywhere and everywhere, from offices and hotels to schools or any other public place. Their modern and attractive design and ease makes them a perfect choice for everyone, thereby making them really versatile.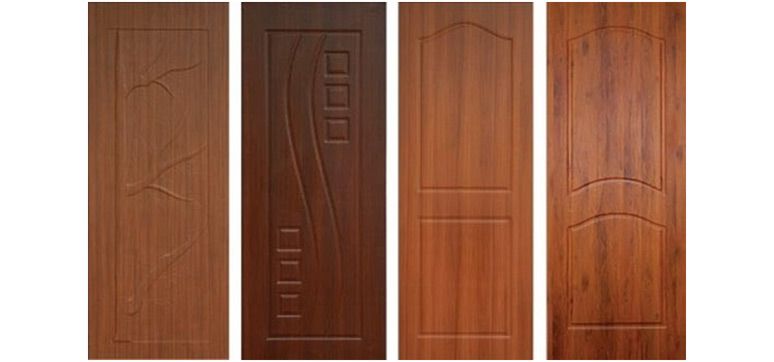 Image Credit: Google Search Images
Types of Designs
Membrane doors come in a variety of designs such as the following:
Wooden Membrane Doors
PVC Membrane Doors
Laminate Membrane Doors
Solace Membrane Doors
Designer Membrane Doors
Price in India (in INR)
These modern doors are available at the most pocket friendly rates. However, if you have a handsome amount of money, you can go for the expensive ones, too. Starting from around 80 per square feet, they go up to 700 per square feet. Based on your budget, you can choose your favorite designs. The average expendable price is 300 per square feet.
Membrane Door Suppliers
There is a whole range of suppliers of these doors in India. Wherever you buy them from, do not compromise on the quality since that's what the USP of this product is, the door has to be of quality material and durability. Make sure that the company is a renowned one as far as latest trends are concerned. Read the reviews and seek advice from your friends and relatives. Also, these doors come at economical prices so do not let the seller charge exorbitantly high rates from you. Haggle, if possible, but don't surpass your budget.
There is no reason for you to not invest in these doors, since they have everything possible you've been looking for. So what are you waiting for? Quickly go to your nearest door dealer and make your house as well as room entrances unique and unforgettable.